Vincent Busuttil Shihan Kids Martial Arts Instructor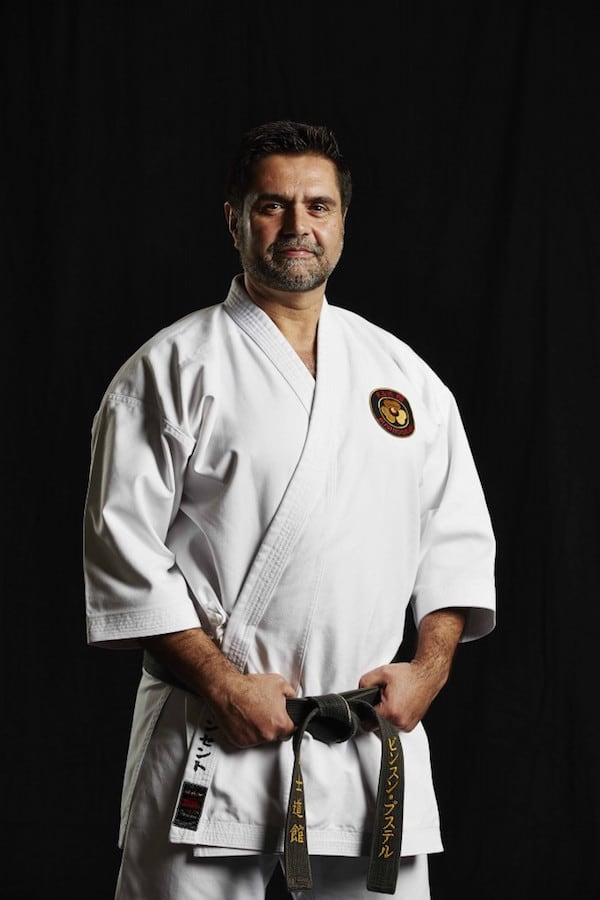 Vincent Busuttil Shihan
•Goju-Ryu Karate Do Kenkyukai – 5th Dan -Taira Masaji Hanshi
•International Goju Kai 6th Dan Black Belt – Hanshi Tino Ceberano
•Geido Kai Karate 2nd Dan Black Belt & Uchi Dechi – Shihan Silvio Morelli
•Bushidokan Karate Combatives Australia – Founder and Chief Instructor
•Shibu Cho Goju Ryu Karate Kenkyukai – Taira Masaji
•Muso Jikiden Eishin Ryu 2nd Dan – Fukui Masato
•NAS Victoria Champion
•ISKA Victorian President
Martial Arts knowledge incorporates Goju Ryu Karate, Judo, Brazilian Jujitsu, Japanese Jujitsu, Boxing and Kickboxing.
His philosophy of teaching the martial arts is focused into three areas: the physical, psychological and spiritual or the Body, Mind, Spirit triunion.
In 2015 Shihan Vincent was graded to 6th Dan by Hanshi Tino Ceberano, he currently remains one of the few individuals to be graded to such a high and prestigious rank under the Tino Hanshi and under the International Goju Kai system.
In 2014 Vincent Shihan seeking more learning for his passion Goju Ryu Karate, ventured to Okinawa to train under Goju-ryu head master Taira Sensei. Impressed by Shihan Vincent's eagerness and passion to continue developing and learning the ways of Goju-ryu, Taira Sensei awarded Vincent Shihan the recognition of Shibu Cho, allowing him to be an official Branch Chief under Taira Sensei's Goju-ryu system, of the Goju Ryu Kenkyukai. In 2016 Taira Sensei graded Vincent Shihan to 5th Dan in the Goju-Ryu Karate Do Kenkyukai Okinawa.
The Okinawa Goju Ryu Kenkyukai is a karate organisation set up to promote research into the practical application of Okinawa Goju Ryu Karate kata and technique. It was instituted by Taira Masaji Sensei, to provide a collaborative learning group of like-minded practitioners to collectively advance our karate.
Kenkyukai simply means 'research group'.
Unlike many organisations we don't exist just to follow the precise method of Taira Sensei's kata and bunkai. We recognise that we are all different, that we have different skills and abilities and that through research we will discover the common factors that go into effective karate practice and use those factors to continually improve.
Masaji Taira Sensei is a leading teacher of Okinawa Goju Ryu Karate Do, in the manner of the Jundokan dojo in Okinawa and of his teacher Ei'ichi Miyazato. Taira Sensei is a retired police officer and a 9th dan in Okinawa Goju Ryu Karate Do. Taira Sensei heads the Okinawa Goju Ryu Kenkyukai, is best known as a researcher and practitioner of the bunkai of the Goju Ryu kata, and is renown for being unusually open in his teachings, feeling that the techniques and learning must be shared, for their preservation and to test their effectiveness.
The Physical aspect of the Martial Arts involves the science of physiology, of techniques, the forms, advanced kicking and punching skills, the body conditioning and physical strength and fitness.
•Shihan Vincent is a qualified Neuro Linguistic Master
•Practitioner of N.L.P.
•Anthony Robbins Platinum Partner
•Personal Development Coach
•Public Speaker
•Running and operating UMA since 1995
•Bushidokan System Founder
•Martial Arts Business Mentor