Beginner Kids Martial Arts Classes Enrolling In November
Ultimate Martial Arts' Kids Martial Arts Classes are perfect for any child!
Our Kids classes will provide each student with essential life skills designed to develop resilience, discipline, fitness, and confidence. Ultimate Martial Arts' Kids Martial Arts students will learn practical and effective self-defence skills such as punches, kicks, blocks, ground defence skills and verbal diffusion skills, enabling the individual to effectively handle confrontation, bullying, and threatening situations. Our highly-trained instructors strive to give guidance and empower our students to improve their attitude and self-esteem while improving their well-being and happiness.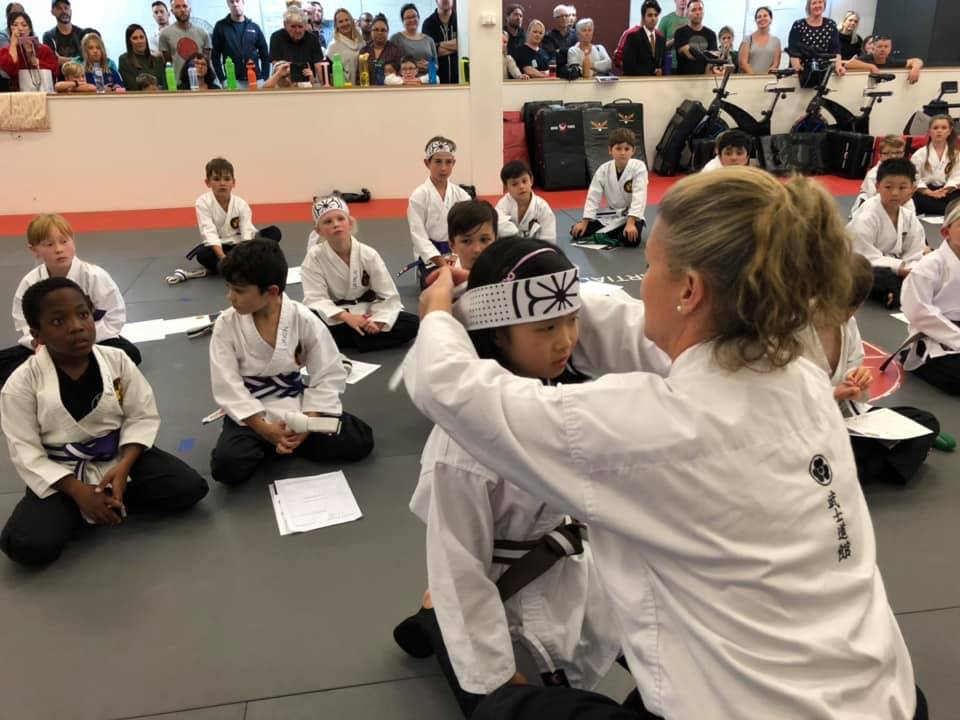 Give Your Child A Kick-Start On A Successful Life!
Ultimate Martial Arts' Kids Martial Arts classes provide age-specific classes so that our professional staff can focus on teaching each student practical and effective martial arts techniques and how and when to use them.
At Ultimate, we understand that there are significant differences in the physical, emotional, intellectual, and social abilities of children of different ages. For that reason, we insist on running age-specific classes that allow us to cater our instructions for each specific age group, ensuring maximum progress and development. This breakdown of classes is very unique to our school, as most martial arts programs will combine 6-year-olds with 12-year-olds, or young teenagers with adults. Smaller and specific age group classes have proven highly beneficial for our students.
Little Champions Programs (3-4 year old classes and 5-6 year old classes)
Our Little Champions' fun and comprehensive programs focus on nurturing and enhancing fundamental skills in focus, memory, balance, control, discipline, coordination, teamwork, and fitness while improving listening and motor skills through a variety of stimulating and interactive martial arts-based activities. Our Little Champions program will highlight the importance of positive thinking and good health, enabling us to develop skills that will serve the students at school, home, and in the future.
Junior Champions Programs (7-9 year old classes and 10-13 year old classes)
Our Junior Champions program fosters personal development through martial art instruction, delivering a curriculum that establishes the fundamental values of respect, discipline, and courtesy whilst instilling an attitude of success. Physically, your child will develop coordination and improve their overall strength while learning skills of self defence.
This class will teach students how to manage their emotions by emphasising the importance of self-control and discipline while instilling leadership qualities and building confidence that enables your child to handle peer-pressure, bullying, and other intimidating situations.
Teen Champions: Pre-Teen (12+) and Teen Classes (13+)
These specialised self-defence programs foster personal and martial arts skill development for teenagers that are designed to teach effective self-defence skills with an emphasis on health, fitness, safety, and goal-setting.
In these programs, students will be introduced to a range of martial art disciplines including valuable self-defence techniques along with extreme skills that include jumping, spinning kicks, grappling, and throws. These techniques will further develop their confidence and foster an attitude of success whilst harnessing leadership qualities.
All child/teen-based curriculums include components of:
Street-ready self defence and diffusion techniques
Stand up striking and kicking
Ground defence and grappling
Takedowns and throwing techniques
Escapes and joint locking techniques
Verbal diffusion
Awareness and safety training
Our programs also emphasise the different scenarios where it is appropriate to resort to physical self defence and when it is not, ensuring that students understand that their skills aren't to be used on other kids in the playground or on siblings. However, they will also be able to identify when it is time to fight back to ensure their personal safety.
XTREME MARTIAL ARTS
XMA classes are a supplementary program in addition to our premier Kids martial arts at UMA. Its designed is to maximise confidence and positive self-esteem through encouraging showmanship and performance. This unique and exciting martial art system combines elements of traditional martial arts, gymnastics, acrobatics, and showmanship. Ask about our VIP 2 weeks pass to try XMA.
Get Started Now!
Just fill out the short form on this page to get all the information you need to get your child started down the path to success with our Kids Martial Arts classes!
Benefits of Kids Martial Arts
A fun and educational approach to facilitating the positive development of your child, enhancing their capacity to function with confidence and enthusiasm in day-to-day life.
A unique way to help prepare your child for the challenge of starting school.
A creative curriculum that employs a grading system to reward and motivate whilst instilling confidence.
A fun and stimulating way to burn off extra energy whilst promoting the benefits of fitness and healthy bodies.
A fun and stimulating way to burn off extra energy whilst promoting the benefits of fitness and healthy bodies.
A stimulating curriculum that employs a grading system to reward and motivate your child and fortify an attitude of success.
An exciting approach to facilitate the positive development of your child both physically and mentally
A highly interactive yet practical way to develop your child's self-defence skills while making friends.
A unique curriculum that employs a grading system to reward and motivate as well as highlight the opportunity to achieve something out of the ordinary by becoming a Bushidokan black belt.